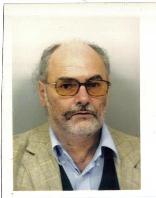 Painted portrait and a picture from January 2008 (by E. Marek).

View of Mount Hermon from my office.

Last updated: 22.02.2020

Grandfather of Boaz Makowsky, born 21. May 2010
to Lucinda Makowsky-Mitchell and Amichai Makowsky in New York.
Boaz, February 2015 . Boaz at four . Pictures 2010 .
Professor emeritus
---
NEW:

Slides of my Talk from February 22, 2020 at the occasion of E. Specker's centenary , ETHZ Zurich.

Pictures can be downloaded from this zip-file .
---
Navigation:
Current Teaching, Invited lectures, Contact, Editorial responsibilities, Committees, Publications, Prose and History,
---
Current Research interest
Mathematical Logic and its interaction with Combinatorics, Graph Theory and Knot Theory
See also Graph Polynomials Project
Mathematical Logic and its interaction with Computer Science

Finite Model Theory and Descriptive Complexity
See also Finite Model Theory Homepage
Database Theory
History of Logic.
One of the earliest textbooks of Logic was written by Maimonides (RAMBAM).
---
Back to navigation
---
Invited Lectures 2013-16
NEW: My own recurrent themes
Lecture given at My retirement event, December 25, 2016, Faculty of Computer Science, Technion-IIT, Haifa.

NEW: Hankel matrices: From words to graphs, (Based on work with N. Labai)
Lecture given at LATA-2015, Nice, March 6 2015.

NEW: On the location of roots of graph polynomials (Based on work with E. Ravve)
The Budapest Lecture, April 29, Spring 2014 Budapest slides , CGTC-slides ,
(revised, 24. December 2014 for presentation at the Technion Combinatorics Seminar,
and expanded for my lecture at 46th GCTC , March 2015)

P=NP over arbitrary structures

ESSLLI 2014 Lectures slides (posted, 06. Aug. 2014), and
ISLA 2014 Lectures slides (posted, 20. Jan. 2014, disabled 15. Aug. 2014), Use ESSLLI slides
Courses given at the 26th European Summer School in Logic, Language and Information ESSLLI 2014 (together with K. Meer)
(ESSLLI-2014) and the Indian School of Logic and Applications (ISLA-2014)

Graduate Courses on Graph Polynomials

The Vienna EMCL Lectures Spring 2014 (in progress) slides (posted, 1. April 2014),
Course given at the TU Wien as part of the EMCL program.
The Prague Lectures October 2014 slides (posted, 16. October 2014),
Course given at KAM (Charles University, Prague) as part of the DOC-COURSE.

The Legacy of A. Mostowski (1913-1975) slides (corrected version, 18. Oct. 2013),
Plenary Adress given at the A. Mostowski Centenary Conference , Warsaw, 11-13 October, 2013
---
Back to navigation
---
Teaching Winter 2015-16
Computability and Definability (236 331)
Lecture slides are posted regularly.
Teaching Spring 2015
---
Recent results in maths and logic I like a lot
Learn: How to read mathematics.
By Shai Simonson and Fernando Gouvea.
Learn: How to study mathematics.
By Wilfrid Hodges.
---
Teaching Fall 2014/15
Set and Logic 234293
Progress report of the Monday Lectures.

Some thoughts about teaching "Sets and Logic in CS" submitted to TTL-2015 (Tools for Teaching Logic).
Teaching in previous semesters
---
Back to navigation
---
Publications
---
---
Professional Organizations
---
Back to navigation
---
Editorial responsibilities
---
Back to navigation
---
Faculty of Computer Science
Technion - Israel Institute of Technology
Haifa 32000, Israel

Tel: +972-4-8294358 (Office)
e-mail: janos at cs.technion.ac.il
Office: Technion, Taub Building 628
Reception Hours (NEW): By appointment via e-mail.

Home: 3 Ein Gedi, Haifa 34529

---
Back to navigation
---
Bridging Logic and Computer Science
Symposion on the occasion of the 60th birthday of Janos Makowsky,
Organized by Damian Niwinski, Ugo Dal Lago, Michael Kaminski, and Simone Martini
September 15th 2008, Bertinoro, Italy
followed by CSL'2008 17th EACSL Annual Conference on Computer Science Logic 15th-19th September 2008, Bertinoro, Italy
---
Joint Special Session at the AMS-ASL Meeting of 2009 January 5-8, 2009, Washington, D.C. Organizers: Martin Grohe (grohe@informatik.hu-berlin.de, HU, Berlin) and and Johann A. Makowsky (janos@cs.technion.ac.il, Technion, Haifa)
---
---
Manifesto on emancipatory aspects of doing mathematics.
---
---
Prose and History
Non-technical publications
Recently published German Prose: Eine haarige Geschichty (Hairy tale) ps-file, pdf-file
My parents and grandparents and Hungarian history. Documents and essays.
Family-tree of the descendants of David Deutsch (one of my great-grandfathers) from Nagyszombat (= Trnava, today in Slovakia).
---
Fortune cookies
L'Art est fait pour troubler, la Science rassure (G. Braque)
Science is Selfconscious Common Sense (Quine)
A perfection of means, and confusion of aims, seems to be our main problem (Albert Einstein)
Overfunded research is like heroin:
It makes one addicted, weakens the mind and furthers prostitution.
(jam in the Jerusalem Post 19.4.85)
---
Back to navigation
---